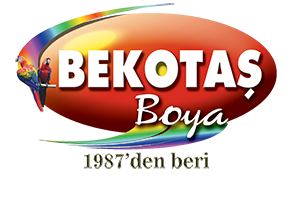 From past to future BEKOTAŞ PAINT…
With its warm colours, BEKOTAŞ PAINT stands for a world's shining and smileyface beyond Turkey going ahead sign its name to huge projects in the construction sector for quarter century with thousands of colour diversity and well-deserved quality.
BEKOTAS PAINT that established in ANKARA, OSTİM, in 1987 was being a brand that exports in the world's 41 country annually producing of 50 thousand tone plaster group, 15 thousand tone water and solvent based paint group, 60 thousand tone building chemicals. Recognising that the quality is past and the modernity of future, we carry on being pioneer of modernity with testing our product's quality in the laboratory that supported by GERMAN technology and with our Reserach and Development works. Production of interior and exterior water based paints, synthetic paints, epoxy and polyurethane surface covering and building chemicals are metiously performed framework of the criterias that approved by TSE.
From production to packing, shipment to prompt and serial delivery of our products is made safely with SONCAP, TSE, TSEK, AND WORLD STANDARD ISO 9001:2009 quality certificates and compatible norms of human environmental health
Growing with product diversity and quality BEKOTAS PAINT succeed the promoting its export network day by day and its prestige was overstep the bounds of the states as a brand that rapidly transmits its customers requests' by land, marine and railway.
Under the umbrella of BEKOTAS, with its effort and ambition to work, within the team spirit, accompanied by our Foreign Trade Department that with an educated, experienced, giving service in six languages, answering instantly the customers requests, we feel right proud of creating the "BEKOTAS PAINT DIFFERENCE" in the national and international areas.
Our company that carries on its own presentation works without delay, shoulder responsibility of being "BRAND" with attaching great importance to domestic and foreign exhibitions, being on our distributor's side, with workshop, technical knowledge and application training. Our exporting countries are; Germany, Netherlands, USA, Albania, Armenia, Georgia, Macedonia, Iran, Iceland, Iraq, Burkina Faso, Lithuania, Qatar, Morocco, Azerbaijan, UAE, Hungary, Kazakstan, Kirghizistan, Ghana, Kenya, Kosova, Turkish Republic of Northern Cyprus, Libya, Hungary, Mongolia, Moldova, Nigeria, Tchad, Egypt, Gabon, Uzbekistan, Algeria, Syria, Tadjikistan, Turkmenistan, Somalia, Ethiopia, Mali, Saudi Arabia, Romania, Ghana, Moritania, Tanzania, Senegal, Cameroon, Bosnia Herzegovina, Russia. Quality is our mission…
Modernity is our vision.